Down and Dirty Viral Marketing
& how to Increase your Traffic
Its so easy to get a Mass of information overload on the Internet when
it comes to Promoting your website and Affiliate marketing.
I have attempted to point you in the direction of some great places
where you can dramatically Increase your Website viewers, Improve sales,
make money by being an affiliate.

I will also include some down 'n' dirty tricks for Viral marketing

Traffic Exchanges

Traffic Exchanges are great for getting your website seen.
The idea is that you can upload your own website/splash page, Then sit and watch
other peoples adverts for a few seconds, after watching a couple of ads,
yours will be shown to someone else. The more ads you look at the more people will be shown your site.
This is a great cheap way to start to really get some views.
I suggest you join up for all 6 Traffic exchanges here as I will show you a Down and
dirty trick at the end to really speed things up to mega viewing proportions!

Free or Upgrade?
when you log into any Traffic exchange you will notice quite heavy advertising to
Upgrade to a Pro membership. You dont have to as you can create hits by viewing
other peoples sites. However if you are short of time then this is a Highly efficient
method of getting hits. You will notice some great deals. These can give you thousands
of views per month.
I would suggest that rather than get bogged down in the deals which promise
'never to be seen again' offers that you choose 'No thanks I'll just have the
Free member option' (always in small print at the bottom of the page).
You will be offered great details every time you get logged in!

SO - Join up now with the following 6 Traffic exchanges

1)Traffic Swarm
Targeted prospects will swarm your site 24/7! Just 5 minutes to set-up,
it's automated, "viral" and proven - and best of all it's FREE!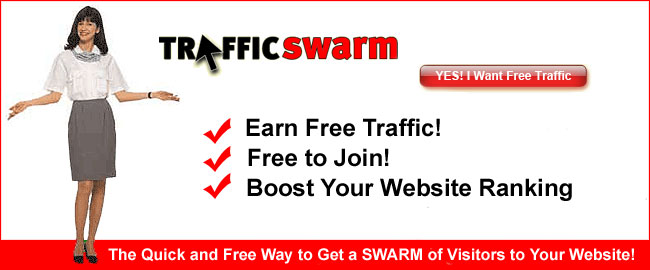 2) TS25




3) Hit Safari



4) Traffic Era




5) Traffic Wonderland

6) Traffic Roundup

7)
Register with all of the above, and then come back to this page and follow the instructions
_____________________________________________________________________________________________
_____________________________________________________________________________________________

Down and Dirty Trick !!
Speed up your Traffic exchange viewing

I know how much time it can take you
to rack up a decent number of hits during a surfing session.
Sitting there trying not to be taken in while youre watching all the enticing adverts
Here's how to avoid it

You can have different webpages with 6 tabs open on a page

at the same time with different Traffic exchanges.

Flit from one to the next using a Quick tab .
This speeds up your clicks by 40% !

you could get as many as 600 clicks an hour!

It will help you to surf just a
little bit faster and make more of your time.

I've been using it, and must say I'm impressed.
Surfing is easier, and quicker.

Did I mention it's free? Just grab it from

Quick Change Tabs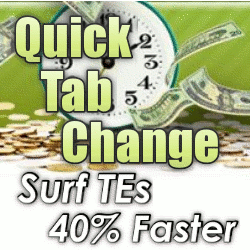 Down and Dirty Trick !!
Traffic Exchange Multiple viewing
a) Open a Browser
b) Now open all 6 Traffic exchanges in different tabs.
c) Now go to Favorites or bookmarks
d) Choose Bookmark all tabs
e) Give it a name (Traffic Exchange tabs)
Now whn you want to do some Traffic viewing and earn Clicks
just open the Bookmark Traffic Exchange tab > Open all in tabs
Now just use your Quick change Tabs (above) and start earning Views!


Make money promoting websites
Go Daddyis the world's largest domain registrar, is also the top hosting
provider in North America and sells worldwide
They have a great affiliate programme for promoting their websites.
Just dop in a Banner on your own website.
www.GoDaddy.com



Mega Hits to your Website!
1 Million Hits !
New Professional Marketing System Explodes your Income!
The real secret to making money online has nothing to do with your site
or the product you sell......Fact!
What really makes the difference as to whether you make money or go bust
is all dependant on how many people see your site each day.
If you only get 10 to 100 people per day visit your site, you might as well give up now.
What if you could get 1 million visitors in the next 30 days?
Would that make your sales increase?
What if you could guarantee that all these visitors were real people,
and they would be on your site for at least 10 seconds each?
And what if you could get all this completely free?
There's an incredible new marketing system that can easily and very realistically
send you over a million guaranteed real visitors to your website, and it won't cost you a thing.
All you have to do is check out One Million Hits
This is going to change the way you market forever.


Free Gift
A Splash page is a simple page that redirects people to your main Website.
A great tip here is - the less you say the more likely they are to visit!
A Squeeze page is the same as a Splash page but with an added form that
the viewer enters their details into. before they can view your site.
This Information is then sent to you and you can build your list from it
and you know what they say - 'The money is in the list'
Get a Free Splash/Squeeze maker here: